"Feeding Body, Mind, and Soul"
Volunteer Roles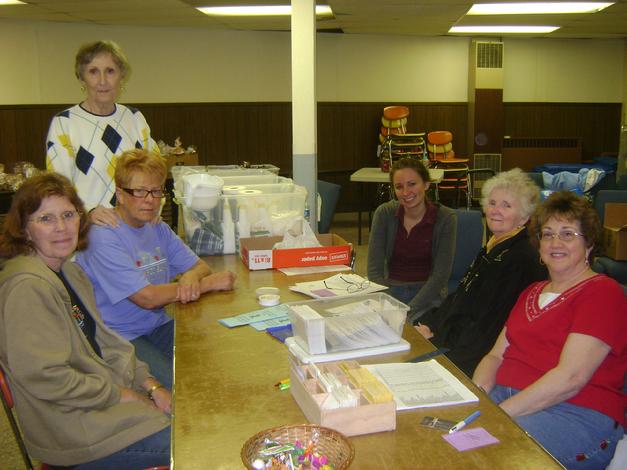 Linda, Sharry, Peggy, Julia, Marian, and Donna serve in registration.


Our volunteers are compassionate and extremely diligent. There are several different roles and responsibilities our volunteers assume. In order to operate efficiently, we require volunteers in the following areas:
Registration - Greeting and registering past and new clients. Each client will get a number and take a seat until they are called to the registration table. You will register them by their name and in the computer. You will also update all information to make sure it is current and that they meet income guidelines.
Free Choice table - The volunteer at this table will be responsible for monitoring the stock of this table. Bread, candy, and other donated items can be given at free will at your discretion. If we are overstocked on the free items then you may give as much as you like, at your own discretion.
Hygiene - You will be responsible for helping clients select the proper amount of hygiene products according to their family size and order for that visit.
Stock People - You will be responsible for restocking shelves with food, hygiene, and other necessary products. Volunteers who man the Pantry area are responsible to let you know when they are running low so that you can go to the designated areas and get products to restock with. You may also be called upon to do carry out if needed.
Carry Out - You will be responsible to help handicap clients to their vehicles. You are not responsible to carry out for every client. Carry out can be at your discretion and it is based upon need. You may be called upon to stock shelves when necessary.
Buddy Shopper - You are responsible to greet the client after registration and guide them through the Pantry and assist them in reading and choosing for their correct family size. You will check their shopping list and show them the products and the amounts they can have. You will also be responsible to show the clients new products.

We greatly appreciate the time and effort our volunteers donate. If you are interested in becoming a volunteer, we ask that you please contact the Food Pantry for more information.
Volunteers serving in the pantry room pack and distribute bags to our clients.




Grove City Community Food Pantry 114 S Center St Grove City, PA 16127
724-458-5208 724-605-2999 FAX Email Us
Fridays
and Mondays 10 am-4 pm, and 4-5 pm on the
first Monday
of every month